Recover from Layoffs
Many companies in the last 2 years have had to let people go. That can create a toxic workplace that the best "survivors" will be eager to leave as soon as they can. And few organizations effectively address the overwork, the fear, and the grief.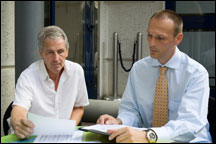 Effective Learning for Growth can help some organizations who are willing to prepare the workforce for the recovery by getting over the shocks of the last two years.
The process starts with an assessment of how things are actually working right now. This includes surveying morale, measuring work processes and loads, and listening very carefully to determine what the organizational culture needs to recover.
If the organization has the potential resilience and highly committed leadership, Effective Learning for Growth can apply some of these processes to get to a positive culture producing results with great capacity for re-growth.
Renew the vision, purpose, and strategy – from top leadership all the way through to the loading dock, the factory floor, the newest call-center operator. Success is when everyone understands why they are there, and want to be.
Improve the processes – expecting fewer people to keep doing the same work in the same ways that many more did before the layoffs can only work for so long before it breaks. Success is when people re-engage with making their work simpler, faster, better.
Re-establish trust – though the entire leadership and among all members, trust will have to be carefully and consistently rebuilt. Acknowledging where it was lost, keeping daily commitments, handling trust more carefully than ever before is the start.
Build positive "Points of Connection" throughout the organization's culture – including with suppliers and customers, and across different structures and levels of the organization. Success is when a genuine, positive culture takes root and makes the workplace one that people want to re-join, stay, and give their best.